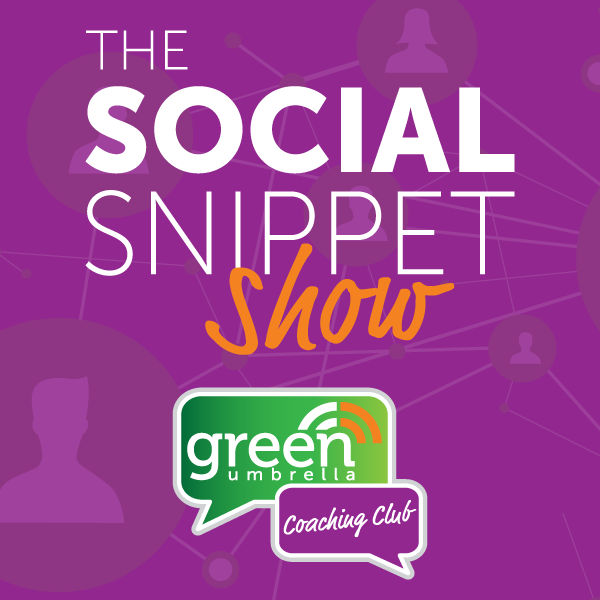 In this week's social snippet show we feature and chat about:-
1. FACEBOOK IS GETTING DOWN WITH THE KIDS
Over the last few years, Facebook has gone from 'cool app' to 'visual message board for family and friends', and with that shift, the platform has been gradually losing its appeal among younger audiences, with some reports suggesting that millions of teens are abandoning The Social Network entirely. Facebook is taking another step to stem the tide of teens leaving its platform with its test of LOL, a feed of memes in the form of videos and GIFs. Read more
2. LINKEDIN UNVEIL NEW ADDITIONS TO COMPANY PAGES
This week, LinkedIn has announced the addition of several new company page functions, adding to the tools it released back in November.
First off, LinkedIn has expanded its job alerts system to help ensure that recruiters at specific companies you're interested in working for are aware of your interest.
LinkedIn's also adding a new dashboard which provides insights on employees at each company, which users will be able to access from a company page.  Read more
3. FACEBOOK UPDATES GROUP INVITES, REMOVING THE ABILITY TO AUTOMATICALLY ADD MEMBERS
This is a biggy! If you have been experiencing issues within groups, then this is why! It can be annoying to be added into a group and to have your News Feed invaded by random updates from discussions that you may actually have little to no interest in. This new change will affect some group member counts. If you've invited a heap of people to join your Facebook group, and you haven't seen those people active in your community, you could see your numbers decline.  Read more
4. IS SNAPCHAT STRUGGLING?
SnapChat is reportedly having some internal issues. The HR Cheif was asked to leave following an internal investigation last year and that had led to the firing of its global security head. Are the cracks starting to appear? Will Facebook win this war? Only time will tell.
5. FACEBOOK TESTS NEW OPTION TO SHARE EVENTS WITHIN STORIES
The new function - which is being tested in the US, Mexico and Brazil - will appear on the event page itself. When you tap on the 'Share to Story' option (within the share options for an event), you'll be able to create a dedicated Stories frame, with an event sticker, as shown in the second image above. I love this idea!
TOOL OF THE WEEK
With Stories Creator, a desktop browser-based tool from Buffer, you can create content for Facebook or Instagram Stories in batches.
Stories Creator is free and available via any desktop computer with a web browser. https://buffer.com/stories-creator